NAME OF THE ACTIVITY / METHOD
Craft, Play, Inclusion, Wellbeing
Children introduce themselves and favorite activities. It leads to an inclusive class and new friendships with children getting to know one other.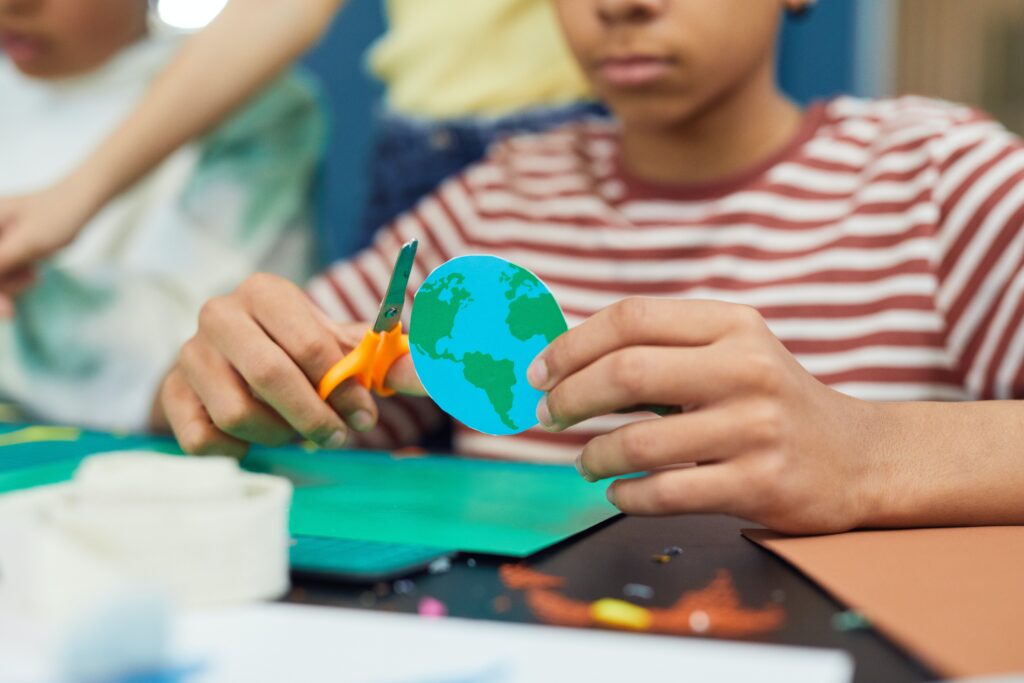 Children were asked to provide a picture of themselves for a collage. Along with their image, they must think of their favorite activities and get images to represent them. Children are crafting a composition that speaks of them to others by only using images. This lets their creativity come to light!
We asked children to bring a photograph of themselves that will be put on a large blank sheet. In addition, they are asked to provide a dozen images of activities they enjoy using cut-outs from magazines, books, or printed from the internet. The images will need to say something about them to others. For example, if you love dancing, the cut out of a dancer or if you like cycling a cyclist and so on. They get to have freedom of creation and work on composition through the collage.
Inspiring children to tell a story of themselves with no words lets them explore their creative side. We recommend this activity because the search for different materials, photos, and images involves children in a more unique way. The activity allows them to present their authentic selves. It turns into a guessing game where classmates try to figure out who is who through their likes and imagery.
Assign the children to find images that represent their favorite activities and bring their own pictures in. You provide the large white paper to paste everything on. It's probable best to give them a week of searching for images from books, magazines, and online. Let them all work on the collages during class time. Encourage a bit of secrecy, by putting up a cardboard barrier around each child's working surface, before finished collages are hung up, so there is more mystery about which collage belongs to who. Have each child hang up their collages around the classroom and serve some snacks to emulate a little opening. In the end, let them connect with each other by sharing which collage they think represents each other or have each child hold up their collage with no presentation as their pictures should speak for themselves. Isn't this such an innovative way to present who you are and form connections in the classroom?